THE BEST AIM TRAINER ONLINE
Why do you need to boost your aim practice?
Don't waste time waiting in queue and deploying! Training with the specially developed scenarios and aim games will boost your aim faster than solely playing any normal FPS game. Track your stats for r6, Valorant, Krunker, Apex Legends and many other games, and start building muscle memory with our mouse accuracy test.
Time saving
Pro players spend more than 12 hours a day training. You can achieve the same in less time with the best Aim Trainer online!
More efficient
Short aim training sessions with frequent repetition will test your mouse accuracy and is more efficient in building muscle memory to speed up your reflexes and reaction time.
Train specific skills
Isolate specific aiming skills through training and dedicated practice of flicking, clicking, tracking, target switching and strafe aiming.
Stats Tracker
To grow, first you need to analyze what you're doing wrong and uncover your weaknesses through the in-depth statistics in 3D Aim Trainer.
Your personal aim lab online
To test your aim benchmark your performance against other players and get the results you are looking for. The detailed statistics and leaderboards that 3D Aim Trainer unblocked online for every FPS player around the world are vital elements that will boost your aim improvement.
Quick Play
Have fun and test your aim in the best aiming games and training levels.
Customize your loadout based on the game you're synced with
Filter your training levels based on the skill you want to practice
Enhanced in-game feel with every training level and its personalized arena
Play now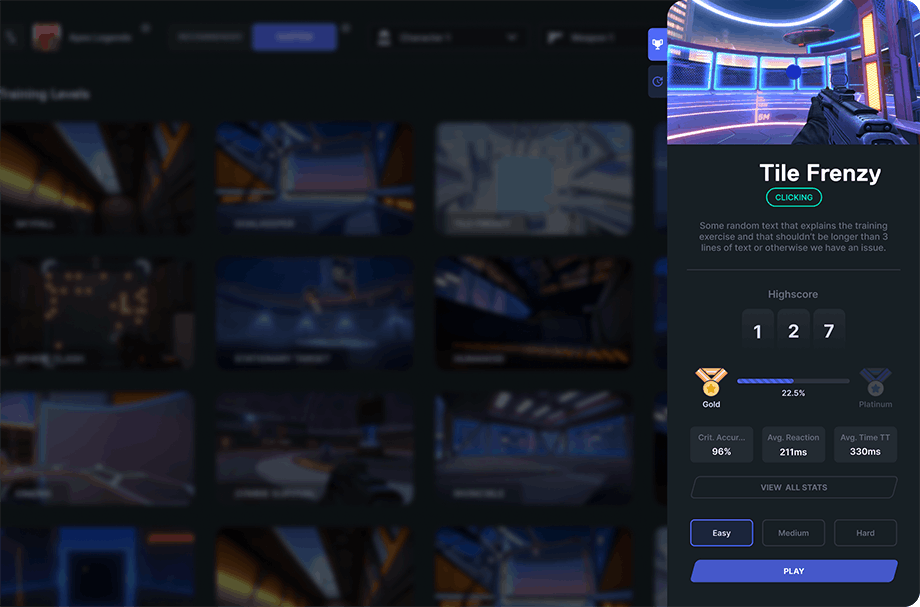 FPS Aim Trainer Academy
The ultimate training ground for improving your aiming skills on 3D Aim Trainer in the most effective way.
Aim training routines and exercises for every shooting skill designed by ex Pros!
Covers all fundamental aim skills necessary to increase your rank in any modern FPS game.
Improve your aim step by step
Try it now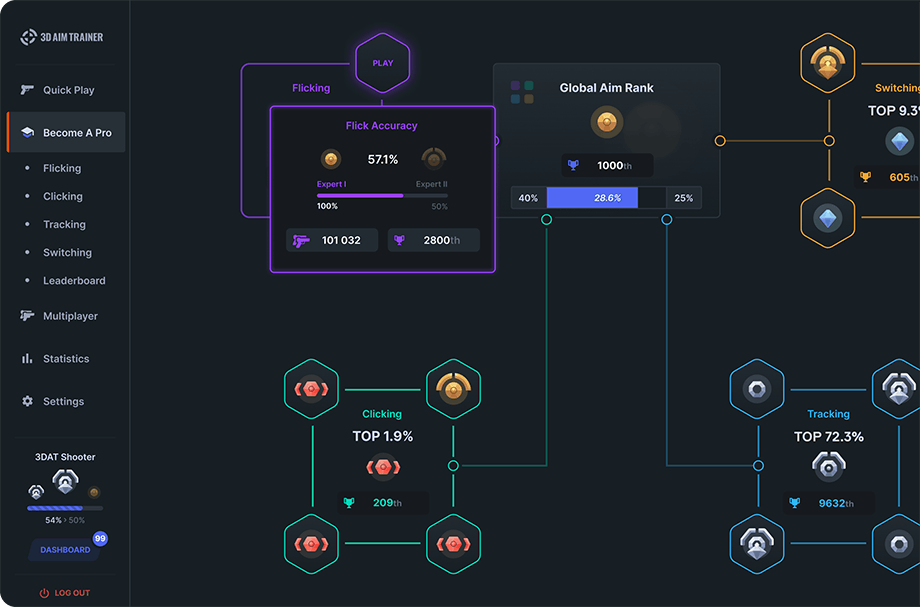 Test your aim
Take the aim test on 3D Aim Trainer to check your skills and analyze what you would need to practice further.
Unlock your Global Aim Rank and get on the leaderboard
Get your personal in-depth statistics for every skill and subskill
Understand your weaknesses to improve your FPS performance
Test your aim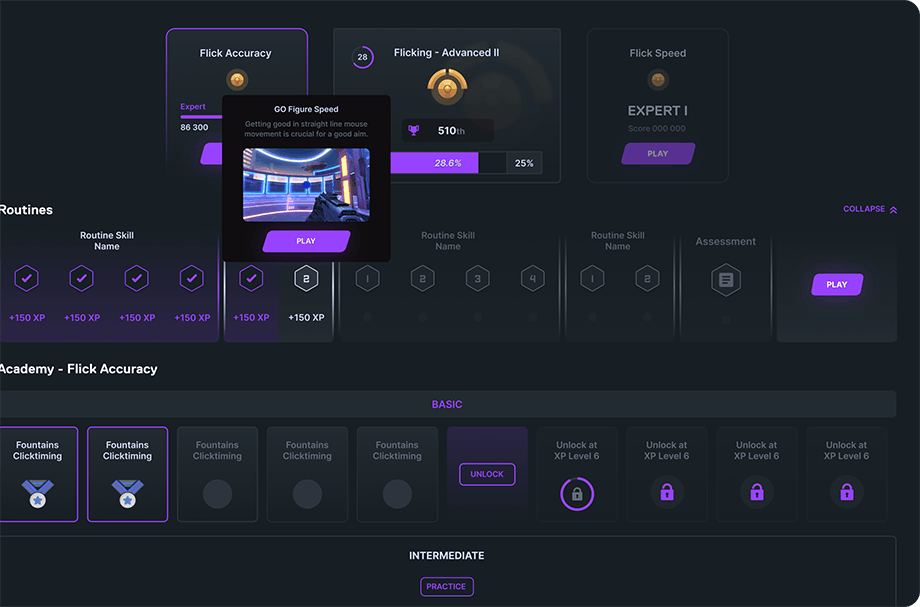 The best aim trainer - get better at your favorite fps game
We accurately simulate your favorite games in different training arenas to help you improve your aim. Our sensitivity calculator generates the mouse sens for you.
The aim practice platform with the most advanced statistics and analytics
Benchmark yourself against real humans: test and improve your mouse accuracy, click speed, reaction time, and tons of other performance indicators.
Track your progress over time
Climb in Leaderboard and reach the top ranks!
Compare yourself with more than 12 Million gamers
Personalized in-depth statistics for every aiming skill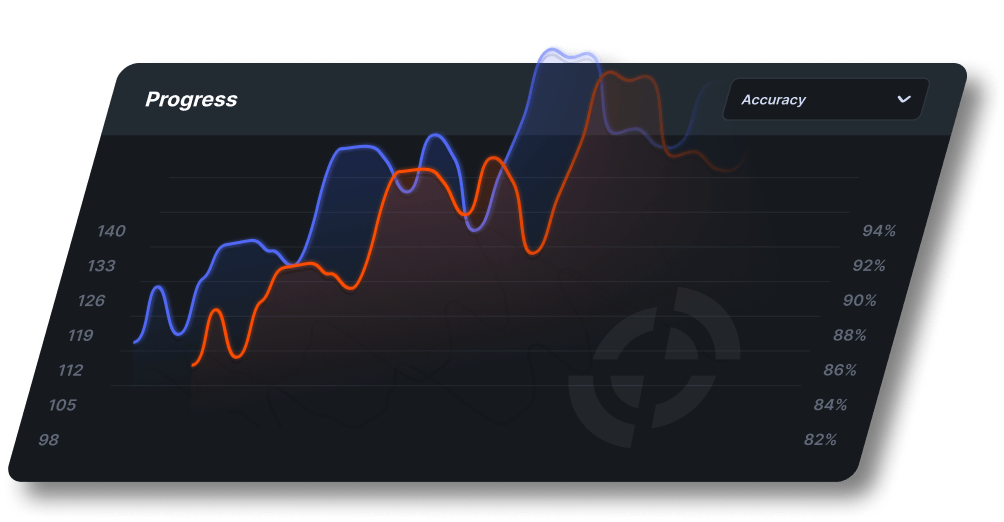 What players say about us
3D Aim trainer helps you improve your aim, mouse control and accuracy of your shots way faster than solely playing any Shooter.
This is an amazing trainer and a very professional site, thank you for making this and even giving it for free.
This aim trainer is amazing. I have only been using it for a week and I already improved so much.
This is why I use 3d aim trainer over kovaak's. These daily aim train reminders are really motivating.
For enhanced aim practice experience
We deliver the perfect sync between 3D Aim Trainer and shooter games! To optimize your Aim Practice, we help you convert and synchronize mouse sens and field of view (FOV) for hipfire and scopes (ADS). We support all available weapons and their parameters like rate of fire, clip size and reload time. We also support all game character attributes such as movement speed, jump, crouch and character height.
Mouse Sensitivity
You can sync the mouse sensitivity between 3D Aim Trainer and your favorite games to guarantee the best training experience.
Guns & Characters
All guns and characters from your favourite games are available, so you can boost your aim for any weapon and hero
Aim Down Sights
Practice your ADS shots like never before. We synchronize zoom and sensitivity settings for all available scopes
Field of View
Adjust the Field of View(FOV) on 3D Aim Trainer to match it with your in-game settings. It is easy, fast and 100% accurate
Aim training is recommended to any gamer who is dedicated to improving his shooting skills in FPS games, whether to become a Pro Player or simply to be able to enjoy his game to the fullest.
Practicing your aim by only playing the game and starting all over again every time you lose a round is very time consuming, hence it is neither the best nor the fastest way to boost your aim. It is proven that brief aim training sessions done frequently enough will promote the muscle memory necessary for developing your quick reflexes and reaction time.
This is crucial for scaling up your aim for all types of aiming from flicking to tracking and strafe aiming, to mention a few. Start your journey to becoming a Pro Player or a Hard-core Gamer today!